Sometimes amputees do what many healthy people don't.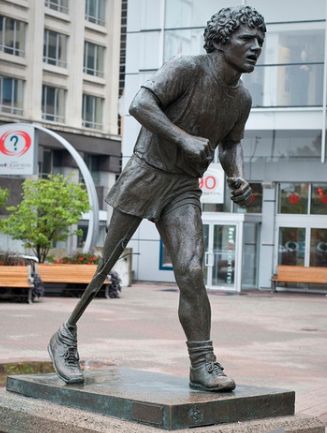 Terrance Stanley Fox (1958–1981), a Canadian right leg amputee, ran a 143 day marathon of 5373 km to raise worldwide awareness of cancer.

Terry Fox was a cancer patient. Being young and rebellious, he became enraged by the shallow funding of cancer research programme. So he ran.
After some initial training and his first competition, he confessed his plan to run across Canada to his mother. Who did not support him. Which enraged Terry even more.
Fox manifested his desire to raise funds to aid cancer patients in a letter to Cancer Society. His called his run Marathon of Hope and set off in April, 1980.
Running Terry Fox was a magnificent yet miserable sight.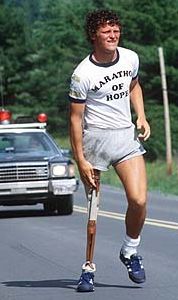 He had to wait after each step for the springs in his prosthetic leg to adjust, which gave his running a certain tilt. Terry suffered shin splint, inflammations, sore knee and ankle. His stump got cysts. But he still ran 42 km a day. His cancer progressed, and on day 143 he had to cease the marathon because of chest pains and severe coughing. The cancer got his lungs.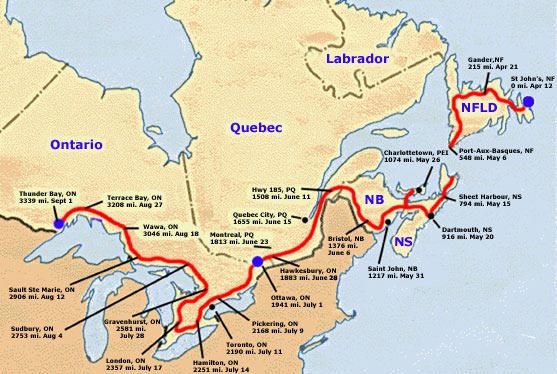 However, as his run progressed, he gained more and more attention from the media, societies, celebrities\, sportsmen, businessmen and common Canadians. The initial despair turned into immense excitement, when petty donations turned into million ones. Terry Fox eventually raised over 23 million USD, and that is 1980's currency!
Unfortunately, Terry Fox could not selfishly enjoy much of his emerged fame or the benefits a well-funded cancer programme could make, as he died the next year. Most probably, the marathon undermined his already poor physical state. He sacrificed his life for the greater good. Terry Fox sacrificed some five to ten years chemotherapy misery, which is often mistaken for life.
And that was not in vain. Terry Fox Marathon of Hope evolved in Terry Fox Run which is still held annually in various parts of the globe.
Terry Fox fulfilled his dream. Hi raised money and awareness of cancer patient problems. His legacy won't let us forget about his cause.
Be strong.